February 11th, 2008
A trio of Mississippi lawmakers has proposed pending legislation that would, in effect, bar obese people from dining at public restaurants.
More than 30 percent of Mississippi's population is onsidered obese. It is always at the top of the annual "fattest states" list. However, there has been considerable outrage over Mississippi House Bill 282 (proposed by 2 Republics and 1 Democrat).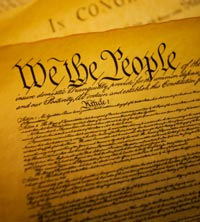 The law would apply to any restaurant that holds a health department permit and has enclosed seating for five or more – a definition broad enough to cover almost every restaurant in the state, not just those that serve fast food. The bill does not spell out what penalties an eatery would face for violating the law.
"Any food establishment to which this section applies shall not be allowed to serve food to any person who is obese, based on criteria prescribed by the State Department of Health after consultation with the Mississippi Council on Obesity Prevention and Management," the bill states.
The chance that the bill will pass is doubtful. Although obesity is a growing epidemic in the United States, should lawmakers dictate who and where people eat? If you are someone that is overweight, would you like to be told where to eat?
Instead of telling folks where they can or can't eat, why not educate them on healthy food choices? Why not recognize restaurants that serve healthy menu fare publically (i.e. through television, radio, newpapers, etc.)? The idea is catching on with establishments like Subway. Healthier menu choices such as mandarin oranges or side salads are popping up on fastfood menus.
To me, it is all about choice. If a motorcycle driver chooses to not wear a helmet and crashes/kills themself, there is no one else to blame. If a person KNOWS that eating highly processed/greasy foods are unhealthy for them and they choose to do it anyway, that is THEIR choice. To me, facing higher insurance rates or having to pay for a second airline seat is incentive enough to watch my weight. Not to mention living longer and having knees that like me.
This is just another ploy by the government to "babysit" the country. Just my .02.